Looking back over the past 18 months, I'm struck by the major leap we achieved in terms of field experimental facilities. To summarise : our lab is now going outdoor.
The last (?) piece of this puzzle is our brand new Internet access via satellite.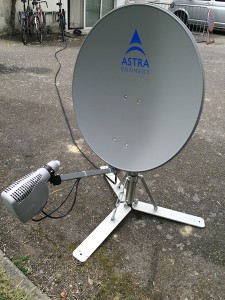 It was made possible thanks to the generosity of SES. Let them be thanked.
This Ka-band internet access is a perfect match with the multi-service terminal that was integrated by our students. Wired and wireless Internet , wired and wireless VoIP telephony.  All packaged in a ruggedised 19″ rack with a UPS.