One programme, two campuses
Teachings activities are organized on two campus sites distant from approx. 5 km: the ENSEEIHT campus located in Toulouse downtown and the ISAE/Rangueil campus located in the Toulouse suburbs.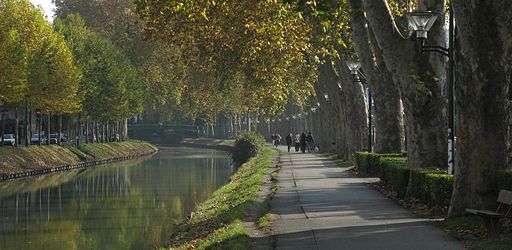 Commuting between the two campuses is achieved by car, public transport or bicycle alongside the Canal du Midi cycling lane.
On your bicycle, enjoy a 15 min. ride alonside this chef d'oeuvre of engineering built during the 18th century to interconnect the Méditerranée sea and Atlantic Ocean. It is a registerd UNESCO World Heritage site.
Experimental facilities
The teaching programme receives full support from the experimental faciltiies available on the sites. These faciltiies include: a geostationary satcom lab with software defined radio (SDR) platforms, a low-earth orbit (LEO) satellte station (including a fully digital receiving chain) and a navigation lab
Research facilities
ENSEEIHT, ISAE and Télécom Bretagne besides being recognized engineering schools also host international acclaimed research centres.They are also founding academic members of the TeSA (Telecommunications for Space and Aeronautics) research lab.
Academics involved in the SCS programme share their professional activities between teaching and research. All of them are involved in research activities and PhD supervision. You will be assured to learn about the latest advances !
Accomodation, sport and subsistence
Toulouse is a vibrant city offering a lot of student accomodations. The ISAE campus features student lodging available to post-graduate students of the SCS programme. The campus also hosts plenty of sporting faciltiies : footbal, tennis and rugby fields, a gymnasium and a swimming pool. Both ENSEEIHT and ISAE campuses have a university restaurant where a 3-course menu costs less than 4 euros.