We have received our new toy : an auto-pointing antenna from AVL (many thanks to Com-Ip for offering us a good deal).
Here is a picture of the antenna being deployed in the lab.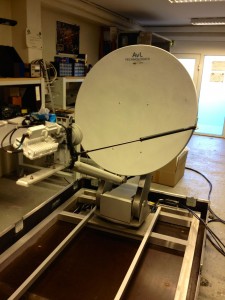 In order to celebrate this event, we have scheduled an "Antenna Install Party" on Tuesday April 15, 2014 at 19:00. This will be the opportunity to test the antenna outside and assess the auto-pointing capabilities.
The meeting place is at the Télécom Bretagne Lab. If you want to join in, drop me a line (this is Laurent speaking). Note that there will be a  confirmation depending on weather conditions.
Looking forward meeting you there.
[Update as of Sun, April 13: the weather forecast tells "all sun" on Tuesday, so the install party is confirmed]